What Are Some Possible Reasons Why My Broker Didn't Sell My Business?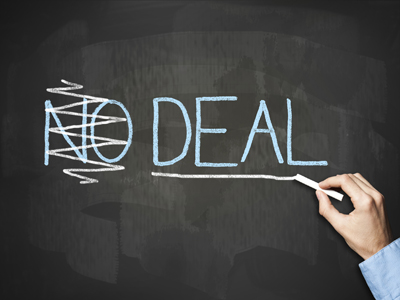 Comments & Replies: 5 Views: 4503 Posted By: Joe Ranieri



What are some reasons a business that was previously on the market with another broker didn't sell? Every broker or agent understands that not every business they list will result in a sale. There can be many reasons small businesses don't sell and many are discussed on this BizBen Discussion post.



Contributor: Joe Ranieri, Business Broker: LA, Orange County Areas
What are some reasons a business that was previously on the market with another broker didn't sell?

Every broker or agent understands that not every business they list will result in a sale. Maybe the business for sale just doesn't make financial sense for buyers who are looking, because of high rent/low sales, bad location, etc. Sometimes it's the business itself that hinders a sale, but often it may be the broker who lacks experience to get it sold. I've often sold businesses which were previously on the market and couldn't sell, and often I've noticed similar mistakes that previous brokers have made. A broker should make sure the contract with the previous broker has ended, because it can complicate things if the business is sold, and the previous agent who still has a valid contract puts a claim into escrow for commission.

1. Not Properly Advertised

The business ad is worded too vague and doesn't really sell the attributes of the business, for instance, is the restaurant fine dining or is it casual fast food? Does the ad specify if the business is a free-standing business or is it anchored in a busy shopping center? Since there are often so many ads of restaurants, it helps to take pictures of the interior or exterior, but photo-shop any items in the picture which give away its confidentiality.

2. Incomplete Books And Records

This item was not as important before the great recession of 2008-2009, but buyers in today's business climate are more weary and slow to make decisions, so a seller should disclose as much information as possible so a buyer can make an informed decision.

3. The Businesses Curb Appeal

The business should be clean and bright, and windows have a limited amount of signage in the window, so that customers and the public can freely see in and out. A clean appearance is important because to a buyer, it subconsciously says that if things are in order in what they can see, then things must be good in what they cannot see. The walk-in box and kitchen should be kept clean, because a buyer may want to see them.

4. An Inexperienced Broker

Sometimes a seller sees all real estate people alike, they may have listed the business with a friend who mostly specializes in selling homes, which is vastly different than someone who specializes in selling businesses. A broker who is knowledgeable about pricing and the process of selling a business can make a huge difference in getting the business sold.

5. Previous Broker Did Not Co-Broke

The previous broker who had the listing may not have opened the listing up to other agents in the community, limiting the exposure to get the business sold.

I would be curious to hear from others on this Discussion Post on either trials and tribulations or success stories that they have encountered with selling businesses previously on the market.

Contributor: Ken Oppeltz, CBI, CBB: San Diego Business Broker
Certainly all the points mentioned in this post contribute to businesses that linger on the market or don't ever sell. But I think by far the biggest reason that businesses don't sell is that the sellers expectations are not in line with the marketplace. A good broker should spend considerable time upfront to determine the value of the business. Then, they need to sit down with the seller and explain WHY the value is what it is. Because the business owners needs to be able to say "yes" when he receives a realistic offer.

On a side note, if a business seller even thinks that their business broker is in "real estate," then the broker has failed to educate the seller. I would never let my real estate agent sell my business. Nor would I ever sell my house on my own. The only thing a real estate agent and a business broker have in common is the California Real Estate license. I know there are many that will say they can do both, and maybe they can. But I don't think you can be the best at both.

Contributor: Chuck Post: Laundry Specialist, Consultant, Due-Diligence
Businesses in popular categories should sell if listed reasonably and the Broker is knowledgeable about your business.

I have found that a big part of the problem is that Sellers don't really know the value of their business. They tend to know what they have into the business but don't typically consider the salability of their business until it is time to sell. This often leads to confusion when being compared to other opportunities. Before considering hiring a broker, a business owner should take a good assessment of the elements of value. A comprehensive, Confidential Business Review would be in order. If you are not capable of breaking this down, it would be advisable to hire an expert in your field to help. You are probably looking at 10's and maybe 100's of thousands of dollars that you are gambling with based on yours and your brokers assessment of value.

Hopefully, you will plan a year or so ahead; giving you the opportunity to clean up flaws and enhance your businesses value. Brokers are not necessarily experts. If your business is general in nature most seasoned brokers can do a pretty good job. But, without knowing the value, how will you know? If your business is somewhat specialized, you should have someone that knows the business on the team.

Selling your business should benefit you. Does it? If so, you will only sell it once. You deserve to get the highest return possible; within the range of values determined by research.

Contributor: Timothy Cunha JD: Business Broker, SF Bay Area
Another factor for a business not selling that has nothing to do with the broker, is the uniqueness of the business. The more specialized a business, the fewer potential buyers and, despite all the efforts of a broker there just may not be the right "fit" with potential buyers.

For example, recently we had a swim club/gym/picnic ground business for sale with commercial, residential, and rental residential property "package". The current owner was an experienced swimming teacher and coach who had been giving lessons from this location for decades ... and the property needed major rehabilitation. Needless to say, we didn't have people lined up around the block ready to put in offers.

But perseverance is usually the answer. Constant and widespread advertising, talking with all prospective buyers no matter how unlikely, pro-active mailings to other companies in similar businesses, and, once an offer was made, diligently following up on due diligence and financing finally had us closing the sale a year after it was first listed. You can't give up too early. You need to pursue all possible avenues. And you need to keep on top of the details once a transaction is underway.

We have another excellent business for sale, generating over $2,000,000 in annual sales and hundreds of thousands of SDE. But, it is a retailer, wholesaler, installer, and sometimes manufacturer of the products it handles. And it requires the owner to have, or to get, or to employ someone with a general contractor's license. The business is very profitable, could easily be transferred to a new owner, but requires a buyer with enough sophistication to operate a multi-faceted business. We've been in contract now with three almost full-price buyers; but, each contract has fallen through because the buyers weren't willing to put in the investment of time to learn the business. We could easily resolve this problem by breaking the business up into a retail business, a wholesale business, and an installation service, and sell them to three different buyers; but, that wouldn't be best for the business and the sellers have opted for me to keep the combined company on the market until we find a viable buyer to successfully acquire the entire business.

Perseverance is required, especially the more unique the company being sold.

Contributor: Mark Chatow - Legal Services For Business Buyers And Sellers
As a business attorney, I hear a fair amount of feedback about business brokers from my buyer-side clients. While I have always found the brokers active here on BizBen to always be professional and responsive, one of the most common complaints I hear is that some other brokers simply never respond to phone call or email inquiries about a business.

While I appreciate that there are a lot of potential buyers in the early stage of their purchase decisions, I've had at least three active clients mention the same issue in the past few months, and it's been a consistent issue for several years. These are buyers who were serious enough to engage with me and make a retainer deposit, so they're definitely not just tire-kickers.

If your business is getting exposure on BizBen, is realistically priced, and doesn't have any other obvious issues that might be limiting offers or killing a deal once offers are accepted and it's still not getting sold, it's possible your broker may just not be returning calls or emails.

Replies To This Comment

Contributor: Joe Ranieri, Business Broker: LA, Orange County Areas Post ID: 1355
Mark, you brought up a really great point about brokers not returning emails or phone calls. My advice to potential buyers is when calling a broker is to speak very slowly, reference the specific business they are calling about, and if they are calling and leave a message, remember don't forget to specify the area code you are calling from. Deals can sometimes go sideways at the last minute, and so I've found that brokers will keep advertising a listing up until the deal is done, or they may keep it up after the deal has closed to either still get calls from buyers so they can bait and switch or maybe use a listing as bait to get calls from potential sellers who have a similar business and are thinking about selling. A potential buyer maybe be calling about a business that is either under contract or has already closed, and so that's why they don't get a returned call, and of course there are always bad brokers out there who lack customer service.